It is our pleasure to introduce the first Mark Krzanowski scholarship winner Dolon Gupta from India. Her presentation on the ESPSIG Showcase Day at the 2022 IATEFL Conference in Belfast promises to be a valuable professional experience in the world of ESP.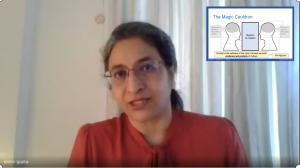 Dolon Gupta has a Master's Degree in English and French language. She started her career as a teacher of French. Her main areas were French for Special Purposes and Teaching of French as a Foreign Language. In 2012, she was offered a job at Tata Consultancy Services (TCS), an IT multinational. It was a global role, focused on providing training solutions to enhance collaboration and productivity of a 400,000+ workforce comprising 100+ nationalities and languages. It was a leap from the teaching world to the corporate one.
As Global Head of Culture and Language Initiatives, she led a team of language and intercultural experts. That's when she forayed into ESP as well as English as a Foreign Language. Teams were multicultural, multilingual and distributed across the globe. They had to work together productively, and English language was crucial in this process.
In January 2020, she moved out of TCS to become an independent consultant. In January 2021, she launched the Business Communication Facilitators Association of India (BCFAI) along with a few like-minded colleagues. The objective of this professional body is to provide a platform for English language trainers to interact and upskill. BCFAI is taking up English language learning projects to cater to the needs of specific audiences.
Now she is a learning consultant, based in India, specializing in Business English, intercultural communication and soft skills, working with start-ups, multinationals and educational institutes. Dolon is also an active conference presenter who has attended conferences worldwide, including IATEFL annual conferences.