Triparni Biswas is working with Deloitte India as a program manager of Technology, Media, and Telecommunications industry where she is responsible for assisting the sector leaders to develop business, improve DEI, and advance the learning and development of TMT professionals.
This role has inspired her to take data-driven decisions to create learning modules. In the last six years, to understand how various segments organizations play together to deliver impact, she has moved across different domains, such as Learning and Development, Change Management, Marketing Communications, and now Project Management.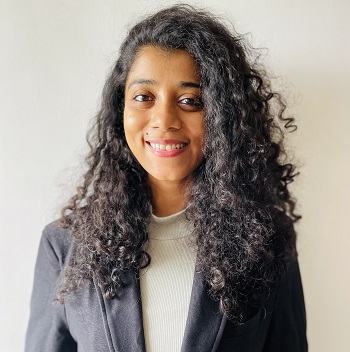 A passionate teacher at heart, she has spent three years as a faculty of Tata Consultancy Services, teaching over 5000 new hires coming from a diverse socio-economic clusters of India. During this time, she observed that several hundreds of them are technically smart but due to some reasons, like limited exposure to the English Language from childhood or lack of confidence, struggled in international space. All they needed was a customized curriculum and someone to believe in them. It soon became her personal mission to find out the rift between academic English training and industry requirements in India, and help younger generations to find financially stable jobs.
Triparni has done her post-graduation in English Language and Literature from Visva Bharati Central University, an Institution founded by the Noble Laureate Rabindranath Tagore. She has not only secured the second rank in her department but also participated in various National and International Conferences to present her papers on Indian Partition, Diaspora, and De-Colonizing Indianesses. She has won the National Paper Reading Competition organized by the University of Rajkot (2016), and gained a chance to present in the International Conference on Borders organized by the Visva Bharati University (2017).
She is an active member of Business Communications Facilitators Association India (BCFAI) and Japan Intercultural Institute (JII) and through her collaboration with ESPSIG and IATEFL, she plans to research the problems in intercultural and English language competency of Indians and apply the solutions to increase employability of her country's youth.